Fab.com Email Blunder – & Rebound!
We've all been there before. You sent out the wrong email. There was a mistake in the copy. The graphics are out of whack. Basically, you messed up. Big time.
Well? So what?
1re·bound
verb \ˈrē-ˌbau̇nd, ri-ˈ\
: to bounce back off something after hitting it
: to increase or improve after a recent decrease or decline
In basketball: to gain possession of a missed shot after it bounces off the backboard or basket rim.
You've heard the announcer say it time after time.
The ball soars toward the net but hits the rim instead. Devastated, you sit back and wait for the opposing team to take it. Then, out of the blue, the offense grabs the ball and dunks it through the basket!
Rebounds are a routine part of the game and can lead to another chance to score.
"You never let a serious crisis go to waste."
Rahm Emmanuel, White House Chief of Staff.
Every error, every mistake, is also an opportunity in disguise. You can sit back and mope about it or use it as an opening to do something you couldn't do before.
Still doubting?
Oh ye of little faith; I will make true believers out of you yet.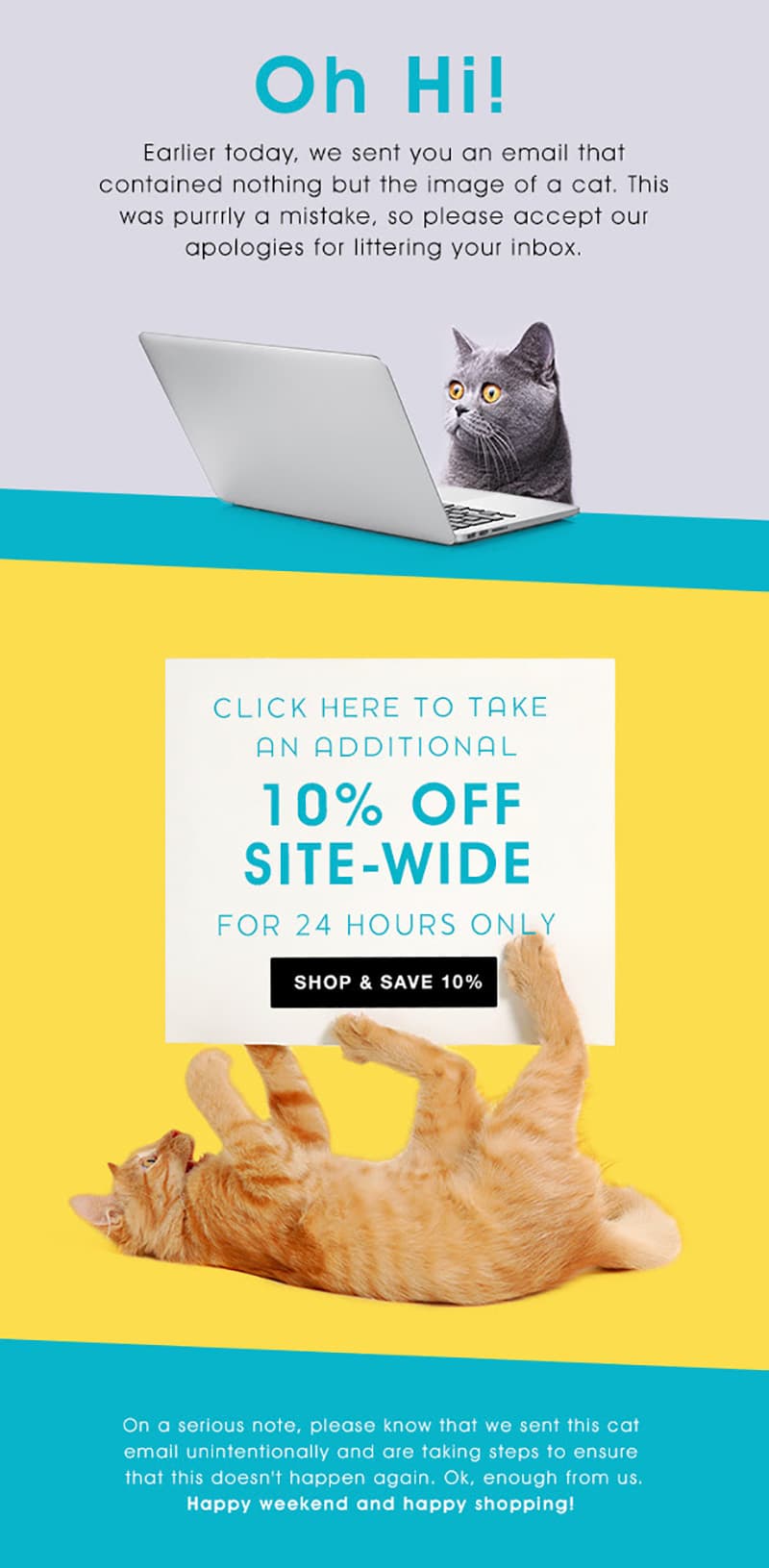 As you can see from the example, they managed to turn a simple mistake into an opportunity to connect with their customers. Please pay attention to their choice of words:
"…this was purrrly a mistake" Fabulous! But it gets better:
"…littering your inbox." Get it? Simply delightful.
The clever copy allowed those who received it to further identify with the site and product. The play on words and the light tone makes you predisposed to forgive the fault in their marketing. And the final masterful stroke? They used their simple error to bolster sales through the use of a coupon.
What should you learn from this?
Instead of ignoring a blunder, find a way to use it to your advantage. Remember, any publicity is still good publicity, if you know how to spin it.
https://onceinteractive.com/wp-content/uploads/2014/08/Screen-Shot-2014-08-06-at-3.51.48-PM1.png
606
1022
Bjorn Wallman
https://onceinteractive.com/wp-content/uploads/2021/09/once-main-logo.svg
Bjorn Wallman
2014-08-06 23:00:37
2017-10-04 13:28:57
Fab.com Email Blunder – & Rebound!